Base oils
Base oils constitute 40-50% of the price of finished lubricants. The price of base oils themselves is obviously affected by the price of crude oil – itself a fluctuating commodity – in no small part because they are a product of the crude refining process. Crude has gone past the $60/bbl mark and is expected to remain strong, but until demand hits a level that allows for competitive margins, many refineries will remain closed and the feedstock for base oils will remain limited. 
After initially decreasing when most countries, including South Africa, went into lockdown, base oil prices have been increasing exponentially since the middle of last year as demand has normalised, driven by rising numbers of vaccinations and concomitant economic growth. Between June 2020 and March 2021, base oil increased in price by $639/MT and $853/MT for SN100 and SN500 respectively; from February 2021 to March 2021 SN150, SN500, and bright stock increased by $173/MT (21%), $321/MT (35%) and $336/MT (34%) respectively.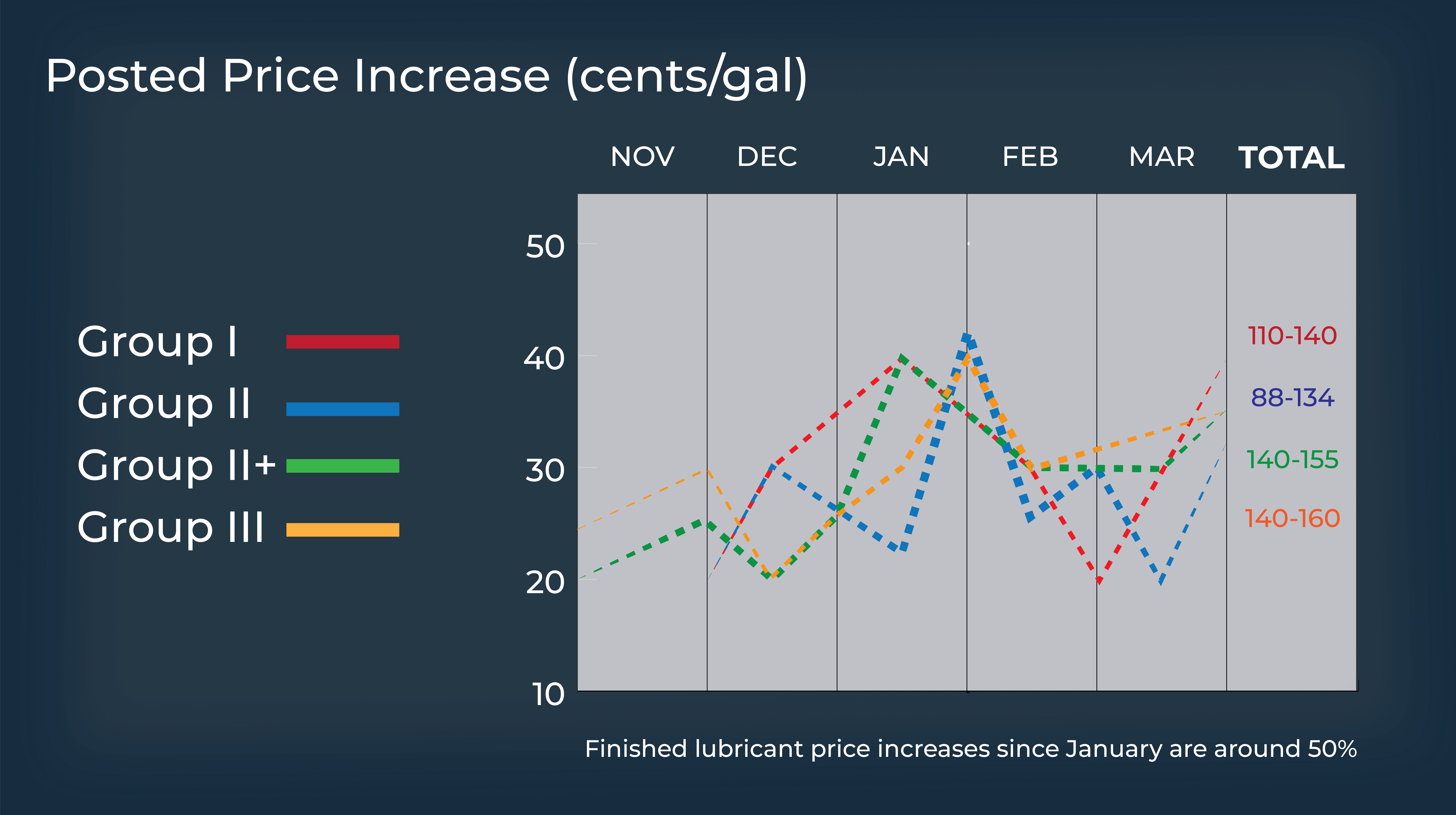 As markets around the world reopen, demand for base oils is steadily increasing too, and at a faster rate than that for crude. Presently, demand is surpassing supply as countries around the world go in and out of lockdown, which also interrupts the production of feedstock and supply chains. SN500 is in extremely short supply and bright stock is virtually unavailable, while the supply of SN150 can hardly be called abundant. Some have suggested – with little supporting evidence, sadly – that levels might improve by the end of the second quarter, but this remains to be seen.
On top of these considerations, base oil supply and price may also be influenced by any of a number of other factors, including Group I plant closures, refinery maintenance, storms or hurricanes, the COVID-19 pandemic, or a cargo ship blocking up one of the world's major sea freight arteries. 
Added to enhance the performance of lubricants, additives like rust inhibitors, dispersants, anti-wear agents, viscosity index improvers, detergents and demulsifying agents, constitute 15-20% of the price of finished lubricants. As many of these are petrochemicals derivatives and contain base oil, the price of crude and base oil affects the price of additives – we can see these increases starting to take place. Aside from oil, fluctuations in the prices of the chemicals constituents of these additives will obviously have an impact on their price. 
Packaging 
Effective packaging is essential for the safe handling of lubricants and constitutes 10% of the price thereof. While plastics costs are linked to the price of crude oil, COVID-19 has had a double impact on packaging prices. Corrugated cardboard prices have risen, likely in response to increased e-commerce demand, while a number of major suppliers exited the country as a result of the pandemic, necessitating greater steel imports. These factors have contributed to a more than 20% increase in packaging prices. 
Other components
Import duties, manufacturing costs and freight costs together constitute 20-25% of the price of finished lubricants. Increases in imports of lubricants and additives have been observed, with knock-on effects on lubricant prices. Freight costs are a notable factor here, and higher oil prices obviously mean a rise in these. And while wage rates have remained largely unchanged since 2019, Eskom rate hikes will continue to increase the costs of manufacturing. 
The economic situation
Encouragingly, after collapsing in the first quarter of 2020 to over R18/$, the rand has strengthened considerably, sitting around R14.30 at the end of June this year. The IMF has revised its economic growth forecast for South Africa from 2.8% to 3.1%, and the country's current account surplus increased from 3.7% of GDP in the final quarter of 2020 to 5% in the first quarter of this year on the back of its trade surplus and the global economic recovery. Combined with better-than-expected tax collection last year and an increase in commodity prices, this has given investor confidence in the rand a boost, making it the only emerging market currency with a positive YTD gain against the dollar. 
The forecast for the lubricants sector remains, like so much else, uncertain. However, you can count on demand for all oils increasing gradually as our and other economies steadily gather momentum. This will be true for lubricants too as more and more vehicles return to the roads and industries ramp up. As a leading provider of finished lubricants, Astron Energy remains committed to keeping South African vehicles, machines and industries running smoothly and efficiently.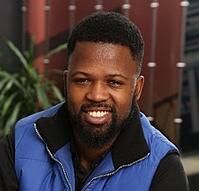 "With our intimate understanding of market dynamics, we work hard to keep our customers informed of what is happening in the market through continuous communications, so that price adjustments are understood," says Lubricants Business Support Manager Sifiso Ngcobo. "We also leverage our negotiating power to get the best possible prices from our suppliers, which helps to keep increases passed onto our customers moderate." 
For further information or assistance with your lubricant needs, please get in touch with our sales team.